Spotlight Ads
A spotlight ad is a Facebook and/or Myspace ad that we run for certain artists to help gain them more exposure. Each ad is run until the ad has gotten 10,000 or more impressions. The ad links to the artists music page, so that when people click on the ad they are taken right to that artist's page.
See below for example of the ads.
Does It Cost the Artist Anything?
No. When we run a spotlight ad for one of our artists, it is on our dime. We pay for the ad and we launch the ad.
Why Does Afton Run These Ads for Some Artists?
This is our way to help spread the word and gain exposure for some of the acts we work with. We are able to do this for acts that are reliable, anytime we need to make something up to one of our artists, or anytime one of our staff wants to run a special ad for one of the acts they work with.
Facebook Ad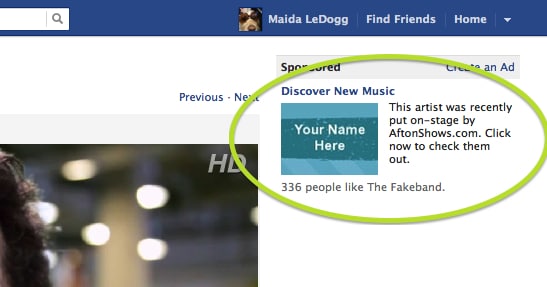 Myspace Ad